The holidays are the perfect time to break out your chocolate fountain — and the perfect time to spice up your fondue with some holiday pizzazz. Thankfully, Sephra has three great ways to do just that. You can serve eggnog dip, spiced holiday chocolate fondue, winter marshmallow cream fondue — or all three!
Enrich the Holidays With Eggnog Dip for the Fondue Fountain
You might consider putting holiday eggnog into your fondue fountain instead of drinking it this year once you discover how simple and delicious Sephra's recipe for eggnog dip is.
Eggnog dip is simple four boxes of instant vanilla pudding combined with a little nutmeg, vanilla extract and an extra four cups of milk to help it run smoothly through the fondue fountain. This recipe is designed to run on no heat, so be sure to refrigerate any of the eggnog dip that you aren't using.
An array of goodies taste even better once dipped into the rich eggnog dip, including gingerbread cookies, sugar cookies, mini pumpkin muffins, chocolate pound cake bites and apple slices, just to add a healthy touch to the dessert table.
Warm up the Holidays With Spiced Holiday Chocolate Fondue
Dark chocolate  for chocolate fountains taste even better for the holidays by adding warm, fragrant hol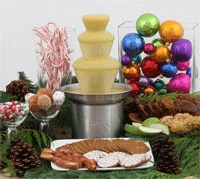 iday spices to the chocolate for chocolate fountains. Although guests usually don't need to be asked twice to partake in chocolate fondue, the inviting aroma of dark chocolate mixed with cinnamon, ginger, nutmeg, clove and all spice will have everyone out of their seats and clambering around the dessert table for a taste of your spiced holiday chocolate fondue.
Once you add the above spices to four pounds of Sephra dark chocolate, let the chocolate fountain do the rest as it runs the spiced chocolate mixture through the fountain. Fresh fruit like strawberries and bananas will taste even better covered in spiced holiday chocolate fondue, as well baked goods like sugar cookies, pound cake bites and pumpkin muffins.
Brighten the Holidays With Winter Marshmallow Cream Fondue
Who won't enjoy dipping treats into winter marshmallow cream  fondue this holiday season? Once you mix whole milk with several bags of marshmallows on the stove, Sephra's fondue fountain takes care of the rest. Simply keep the fondue fountain setting on low or medium heat and adjust the consistency by adding milk as necessary.
Once your winter marshmallow cream fondue is flowing nicely, arrange dipping treats like chocolate covered pretzel sticks, brownie bites, sugar cookies and banana slices around the fondue fountain and enjoy eating and celebrating the holidays with friends and family.