DID YOU KNOW…  the Romans celebrated February 14th as a special day to honor gods and goddesses? So interesting – and now we have Valentines Day!
We love to celebrate Valentine's Day by showering our special "Valentines" with jewelry, flowers and candy – but MOSTLY CHOCOLATE!!
Now, we can warm up to that idea in a hurry. It's part of our daily diet. LOL if you're like me, anyway! You know the definition of a balanced diet, don't you? "CHOCOLATE IN BOTH HANDS"!!
I started thinking a lot about what great Valentine ideas I could offer you this year that would be romantic, seductive, delicious and, of course, include chocolate. I also have a few ideas for a family V day and for a crowd. So read on and find some great, new ways to celebrate the holiday of love – Valentines Day!
A New Fondue for Two
Let me start by proposing a new fondue. We totally think of chocolate first when it comes to fondue options, but we have the most awesome peanut butter fondue you have ever tasted! It is SO awesome that we call it Awesomeness Liquid Peanut Butter! Check it out as we are having a Super Sale right now for $7 a 4lb jar.
So – you also have the option of mixing our Sephra fondue chocolate into the peanut butter and the result is a delicious peanut butter chocolate fondue. We taste tested (yeah, it was rough LOL) and found we liked a 50/50 ratio of the liquid peanut butter and fondue chocolate. But you can experiment and see what combination best suits your taste buds.
To use the liquid peanut butter, pour directly from the jar into your fondue fountain. I recommend a little Select Home Fondue Fountain for two or even your family. It's small, so you can set it up where ever – in front of the fireplace, on a coffee table or WHEREEVER your romantic (or family) evening takes you. To run the peanut butter in your Select Fountain, just empty the jar into the fountain basin and let gently warm for a few minutes. You'll love it's creamy, peanutty taste and the aroma is incredible! Dip marshmallows, bananas, rice krispie treats and sugar cookies. YUM!
More Peanutty Ideas: Use the liquid peanut butter as ice cream topping, make a show-stopping chocolate-peanut butter cheesecake or try it swirled in cinnamon rolls to name a few uses for Awesomeness Liquid Peanut Butter.
Grab a couple of jars for use on other special occasions, such as the long President's Day week-end or Mardi Gras. I've never seen it less expensive. This is a great fondue for kids and is made from all natural ingredients!
Keep with the Fondue
Our second suggestion for a family Valentine celebration is the Select Chocolate Fountain Combo. It's another BIG favorite among our customers. The Select is a 'Sweetheart' of a fountain. It's 16" tall and is perfect for all your small family gatherings. But, it will handle 25-30 guests without a hiccup. It can run several different fondues, including – how about this ??? –  Nacho cheese, which we plan to have going on Super Bowl Sunday… Nachos, anyone?
The reason we love the Select (and all our Sephra fountains for that matter) is the 'whisper quiet' motor which simply means that it's a very quiet running fountain. If you've tried other brands you may have felt like a cement mixer was sitting on your table, making it impossible to enjoy the experience. Not so with all Sephra fountains. Guests will barely notice it's running and no one has to talk loud to be heard.
Whisper quiet is a special patent that Sephra owns and you'll love the ease of using, cleaning and storing the Select. It's super easy to clean..wipe off the excess fondue and wash in warm, sudsy dish water. Dry and put away. It's compact and doesn't take up much storage room.
The Select Fondue Fountain Combo comes with 4 lbs. of Sephra Melts chocolate fondue and 400 bamboo skewers, so all you'll need to add are some marshmallows, strawberries and pretzels and you're in party mode. The combo is a deal at only $89.99 and here are my two favorite words again..FREE SHIPPING!
Valentine Dessert Sampler for a Party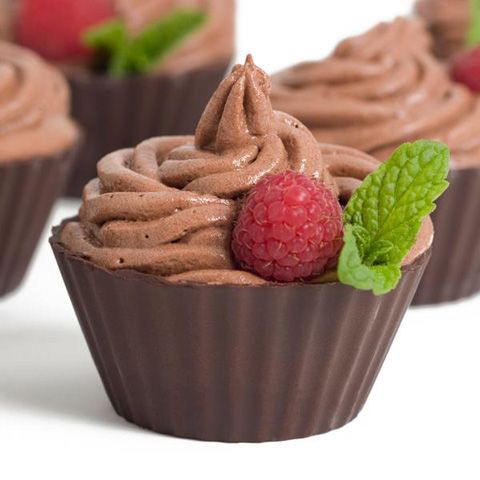 So this is one of my super yummy ideas if you have a Valentines Day get together – our Dessert Sampler. These desserts are UNBELIEVABLY easy to prepare – and again, include free shipping – Yay! That's always a plus!
If you have ever eaten something and thought "I've never tasted anything so delicious in my entire life", then you're going to fall in love with these delicious desserts. You'll be treated to a package of Belgian White Chocolate Mousse, a package of Belgian Dark Chocolate Mousse and lastly, a package of Creme Brulee that'll knock your socks off!
Each creamy Mousse pouch will make 30 – 4 ounce servings. It's so easy to make..add milk..mix..chill..serve!! What could be easier? Yet, your guests will think you started from scratch, whipping, melting the chocolate and beating the eggs. It's so creamy, yet light and airy; a burst of Belgian chocolate in each and every bite will tingle your tastebuds. Of course, you can make partial packages for smaller groups.
To make these desserts extra fancy and more chocolaty take it one step further. Swirl this scrumptious chocolate Mousse into individual, edible Belgian Dark Chocolate Dessert Cups. These are so yummy and really make your desserts into a scrumptious and elegant grand finale. They are surprisingly inexpensive too, they just look extravagant!
Mousse and Dessert Cups combined will cost under $1.00 per serving. Not many things you can serve under a dollar today, let alone something so beautiful, yet simple… and clean-up is a snap because you've eaten the yummy Belgian Dessert Cup, too!
My Personal Fav –  Creme Brulee
The Creme Brulee is silky and custardy…smooth on the tongue and will have you clamoring for more. Again, easy to make and most definitely easy to eat. I love, love, love using these mixes because you just add milk, chill and devour!!! So easy.
Chocolate Fountain Fun is Endless
Until you have your own chocolate fountain, you can't imagine that fun and great parties you'll have. People just love to gather around the fountain and fondue it! This creates such a warm, comfortable atmosphere.
Your friends are dipping and comparing notes on what they like best… and you'll hear something like this "Hey, try the rice krispie treats… it's so awesome dipped in the chocolate." Your house will be known as the "Party House", but for all the RIGHT reasons.
So, we leave it up to you. Choose from Peanut Butter Fondue or one of our combo packages and have a great Valentine's Day. Your family and friends will thoroughly enjoy every bite and if you choose the Select Fountain combo, you'll be set for the many years ahead. Super Bowl, Mother's Day, Easter, Father's Day and everybody's birthday! Party on!