Chamoy is a traditional savory Mexican sauce that tastes delicious paired with a wide variety of food, which makes this the perfect alternative to chocolate for chocolate fountains. A chocolate fountain filled with chamoy is the perfect way to celebrate Cinqo de Mayo or give any event delicious Mexican flair.
What is Chamoy?
Chamoy is made from pickled fruit and has a different taste, depending on which fruit base is used and what spices are added. Most chamoy sauce is made from pickled plums, mangos or apricots, and all are usually spiced with powdered chillies. Making chamoy typically begins with packing the desired fruit in a brine, sometimes containing vinegar. The fruit is removed after it dries out and is a popular snack in Mexico. The leftover flavored brine is then seasoned with chilli powder.
Chamoy can be pureed to a runnier consistency or be thickened to resemble a paste rather than a sauce. Also, the addition of vinegar can give it a more sour taste, although it can also range from sweet to savory depending on how it's seasoned.
Dipping Treats for a Chamoy Chocolate Fountain Fiesta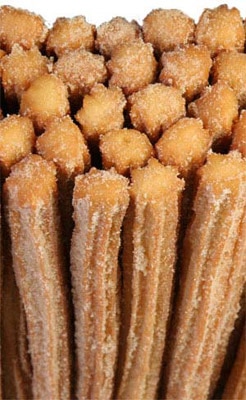 Chamoy enhances the taste of many types of food that can easily be dipping-friendly for a chamoy-filled chocolate fountain. You might begin by arranging churros in tall, colorful vases, and then place wide, footed bowls filled with pita chips in between. Tamarind kabobs will also taste delicious dipped in the chamoy chocolate fountain, as will skewers layered with pineapple and mango bites. Skewers of cucumber and jicama will also taste delicious covered in chamoy for chocolate fountains.
Traditional Tostilocos, a Mexican street food that includes nacho-flavored chips covered in toppings like crunchy peanuts, lime juice, cucumbers and chilli powder, could have chamoy ladled over for the final touch (these dishes traditionally include chamoy). Also, bowls of crunchy, fried peanuts taste even better with chamoy drizzled on top, and guests can scoop some onto their plates and add as much chamoy as they want!
Planning a Chamoy Chocolate Fountain Fiesta
Mexico is associated with bright, festive colors, and the chamoy for chocolate fountain display table can be draped with a bright blue tablecloth stamped with a traditional Mexican pattern and topped with a variety of colorful earthenware bowls, vases and platters to hold the array of dipping treats. You can choose to mix and match several bold colors, or choose a pair to keep the chamoy chocolate fountain dessert table festive, yet slightly more formal depending on the event.
As long as the chamoy is flowing, your guests will enjoy dipping various treats into this unique Mexican sauce.