Chocolate's popularity is undeniable, particularly in the younger and female demographics.  To entice patrons, more restaurants are turning to chocolate to strengthen the profitability of their desert menus.
Chocolate Trends in Restaurants
One of the biggest trends in chocolate is mixing different types of chocolate into one dessert, such as juxtaposing white and dark chocolates. A popular restaurant in San Francisco offers a dessert comprised of semi-sweet and milk chocolate mousse to answer this trend, while an Atlanta restaurateur offers a triple chocolate cake. Another popular trend is pairing sweet and spicy, sweet and salty tastes, such as chocolate covered jalapeño peppers or chocolate cake with spiced pecans.
To truly stand out from the other restaurants on the block, you can incorporate chocolate into your menu with a creative flair. There is a way to make a profit from offering chocolate desserts, attract attention with a unique spin on chocolate desserts, and incorporate the above trends of mixing tastes and chocolates: the chocolate fountain.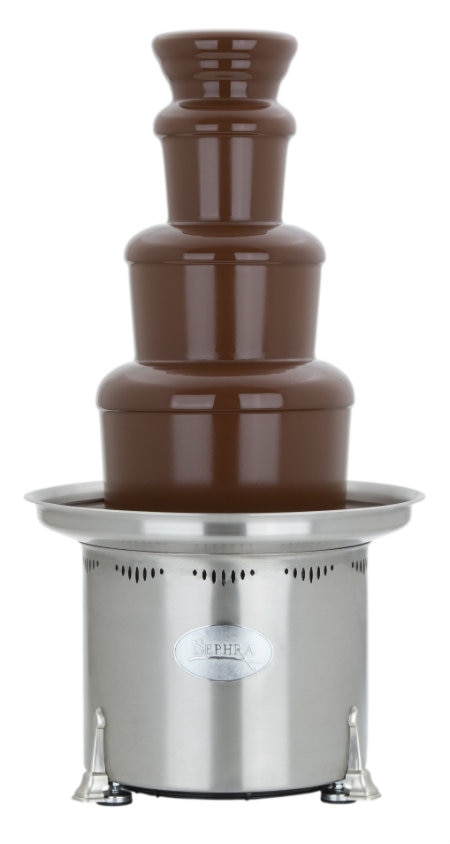 How Chocolate Fountains Can Increase Profit
Many restaurants worry about the time, labor and rising cost of cocoa, using these as an excuse not to offer a chocolate dessert or to offer small tastes of chocolate incorporated into other desserts, such as chocolate sauce drizzled over cheesecake. One way to eliminate some of these concerns is by having a chocolate fountain dessert table, like a dessert bar, that will entice customers to return again and again.
Sephra's commercial chocolate fountains are easy to use, breaking down easily and quickly for storage, but just as easily reassembled. Sephra's chocolate for chocolate fountains is of the highest quality and is made specifically for their chocolate fountains with no additional ingredients necessary. You can easily set up more than one fountain to offer more different types of chocolate, such as dark and milk chocolate, or dark, milk and white chocolate. Then, offer various dipping treats such as strawberries, cherries, bananas, cheesecake, pound cake, pretzel sticks, brownies and small cookies.  Any dessert currently featured on the menu that would pair well with chocolate could easily be cut into cubes for the chocolate fountain display.
Now, you have virtually no labor worries since operating the fountain is simple and your customers do the work of choosing and dipping their own dessert. Sephra's chocolate fountains and chocolate for chocolate fountains are reasonably priced, and businesses often recoup its cost within several uses. Once they are paid for, your only cost will be the chocolate and dipping treats, which you'll factor into the dessert bar's cost. Plus, word of mouth describing the amazing and delicious chocolate fountain dessert bar will bring new business!