Fusion cuisine, which mixes two or more ethnic influences into dishes, has grown more popular as chefs get increasingly creative with combining flavors from various cultures. To appeal to a wider demographic and to add interest at your next chocolate fountain event, consider these fusion chocolate fountain ideas.
Halo Halos: Sweet Filipino Treats Topped With Chocolate for Chocolate Fountains

Whether you'll be entertaining a group with Filipino heritage or a wedding where either the bride or groom is Filipino, including halo-halos with the chocolate fountain is the perfect way to fuse two cultures together through delicious chocolate for chocolate fountains!
Halo-halos are sweet dishes that include a base of sweet boiled beans and fruit topped with shaved ice mixed and evaporated milk. Halo-halo ingredients can be any combination of boiled and sweetened garbanzo and kidney beans, caramelized bananas or plantains, jackfruit, crushed rice, leche flan and tapioca. This sweet treat will taste even better when fused with chocolate for chocolate fountains, and guests will savor each chocolate covered bite of their halo-halo fusion.
Halo-halos can be pre-made or assembled by guests who place any combination of the above-mentioned treats into a glass dish followed by shaved ice, evaporated milk and then finished with as much rich, warm chocolate for chocolate fountains as desired by each guest.
Bonjour Crêpes au Chocolat!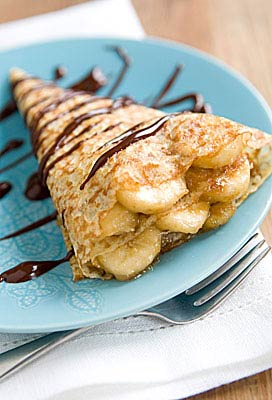 Even when people don't have actual French roots, most enjoy the uniquely French dessert crêpes, which are simply sweet, thin pancakes folded over a variety of fillings. In France, street vendors sell these delectable treats filled with everything from chocolate and bananas to eggs and cheese. Whether the crepes are sweet or savory, they will always taste even more fabulous when fused with chocolate for chocolate fountains.
Featuring a crepe station beside the chocolate fountain will definitely cause a stir among guests as mouths begin watering at the prospect of uniting the two desserts. Guests can still indulge in a variety of dipping treats and then simply choose some for their freshly made crepe.  For example, fresh strawberries dipped in a warm chocolate fountain can be wrapped in a crepe for the ultimate indulgence. Chocolate fountain-dipped macadamia nuts, almonds or walnuts would also make a delectable crepe filling.
Fusing chocolate fountains with international cuisine is a sure-fire way to attract people of different backgrounds to an evening filled with chocolate fountain delight. People not familiar with a particular dessert tradition will get the opportunity to try something new and indulge in the familiar pleasure of chocolate for chocolate fountains….the perfect fusion!