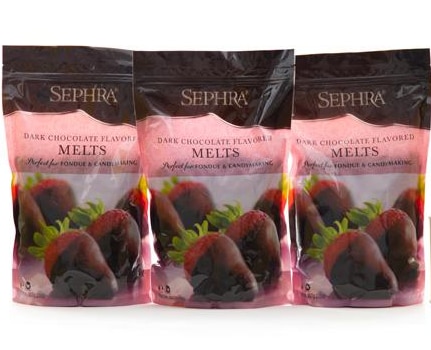 Anyone from a novice to a seasoned candy maker will appreciate the vast variety that Sephra offers its candy makers. From Sephra chocolate melts to tools to dyes to the finishing touches, Sephra has you covered.
Candy Making Starts With the Chocolate
Sephra's decadentchocolate melts are perfect for candy making. Sephra's chocolate melts are available in white, milk and dark chocolate varieties, and after melting, they harden quickly to form a shell around dipping treats or to make candy. Tempering is not necessary and neither is adding fattening ingredients like oil.
Candy Making Continues With Candy Molds and Tools
Sephra offers a wide variety of creative candy molds so that your chocolate confections will turn out looking professional and taste delicious! There are molds perfect for a bridal shower or wedding reception in shapes like a pair of entwined hearts or wedding bells and a three-tiered wedding cake. There are also romantic molds like single rose buds and hearts.
You can also jazz up a kid's birthday party with fun shapes like a pirate head or treasure chest for boys and a fairy princess or butterflies for girls.
Don't forget the essential candy making tools to help you create these confection wonders like small squeeze bottles perfect for holding melted chocolate, so you can carefully squeeze just the right amount into each candy mold. There are also decorating bags that allow you to decorate the mold's details with colored chocolate.
If you need to create pink chocolate, simply use Sephra's candy colors (they come in primary blue, yellow, orange and red) to create any shade you can think of using the white chocolate. There are also lollipop sticks and molds so you can put some of those creative shapes on a stick or a pretzel to give away.
Candy Making Concludes With Perfect Packaging
Sephra offers several packaging options for your candy creations so that you can present them as professionally as if you bought them at a specialty store. Sephra offers half-pound candy boxes that you can carefully arrange your homemade chocolates in and then seal it with a gold foil seal that says "Home Made." You also have the option of using Sephra's clear lollipop wraps to keep your hard work fresh.
Sephra gives you the chocolate fountain chocolate and all the molds and tools you'll need to get started on making delicious candy that no one will believe came out of your kitchen!