Create an Eye-Catching Commercial Chocolate Fountain Display to Show-Off
 If you've never branched out to the baby shower market, then offer your commercial chocolate fountain services to a friend for her baby shower (if possible) and create a display that is easily adaptable to any themed baby shower. If you don't have any leads on upcoming baby showers, visiting local baby stores and distributing an informational brochure is a great way to spread the word.
General baby shower themed displays could include a garland of pacifiers strung on yellow, pink or blue ribbon and a small baby bottle also tied with a matching ribbon as the topper. You could serve the dipping treats on antique white or cream platters and cake stands for traditional baby showers or have fun and "cradle" dipping treats in various sized white baskets that resemble bassinets. You could also use jars that resemble baby food jars in shape (but are larger) to hold confections like meringues and marshmallows.
Once you have a suitable baby shower display, take some good photos for your commercial chocolate fountain portfolio to show potential clients and prepare for an open house.
 Give Potential Clients Incentive to Choose Your Commercial Chocolate Fountain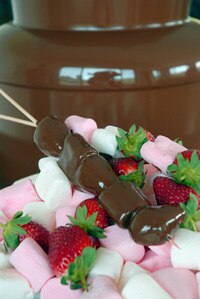 Host a chocolate fountain fondue open house for mothers-to-be and their friends and set up a baby shower-ready chocolate fountain fondue display that will impress everyone with its style and the delicious chocolate fountain fondue.  You may want to consider flowing white Sephra chocolate for chocolate fountains, as some moms-to-be may be concerned about the caffeine content present in milk chocolate.
You might also invite shop owners or small business owners who specialize in planning parties (like baby showers), including stationers and baby clothing and furniture stores. If you impress this group with your presentation and delicious chocolate fountain fondue, they're more likely to recommend you to their clients.
Another great way to connect with expectant mothers is to coordinate a chocolate event with a local baby store over a weekend where you set up your baby shower display and offer chocolate fountain fondue samples to customers. Of course, you can also offer a discount for booking a baby shower that day or for booking a consultation appointment that leads to a baby shower event.
 Once you complete a few successful baby showers, word will get out about your commercial chocolate fountain baby showers, and soon clients will be coming to you!