Your Sephra chocolate fondue fountain is good for so much more than just providing guests with a delicious dessert option. Your fondue fountain can even become the delicious centerpiece for an Asian inspired dinner party. Simply use one of two simple Asian recipes  that will have your guests' mouths watering.
Sweeten the Pot With Sweet and Sour Sauce Fondue
Sephra fondue fountains work well with homemade and store-bought products, so there is no need to slave over a homemade sweet and sour sauce for your Asian inspired dinner party. Instead, choose your favorite store brand, such as Minor's Zesty Orange Sauce, which works well in the fondue fountain without needing to be thinned out with water. Other brands that also taste great include La Choy and Kikkoman, although these will need to be thinned out with a little bit of water to ensure they run smoothly through your fondue fountain.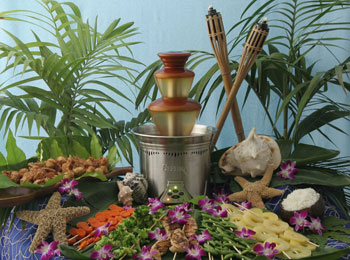 To determine whether the sauce needs to be thinned, heat the sauce over medium heat, and then run it the viscosity funnel. You'll need to thin the sauce if it takes longer than 10 seconds to run through. The largest home fondue fountain will hold 8 cups of sweet and sour sauce, which should be plenty to feed your hungry guests.
Arrange a variety of Asian themed dipping treats, such as small egg rolls, spring rolls, and skewers layered with grilled shrimp, chicken and pork. Now you have a dinner that will be remembered!
Blow Your Guests Away With a Thai-phoon Appetizer Fondue Fountain
Our Thai-phoon appetizer fondue is a delicious concoction, perfect for an Asian inspired dinner party. The recipe is easy to create, tastes amazing, and complements a variety of dipping treats that are also easy to prepare.
Simply mix together 3 to 4 liters of chicken stock, up to 1 liter of Thai chili sauce, cream of chicken soup undiluted to thicken the sauce, and caramel food coloring, which is optional to achieve your desired color. Once these are mixed together to your taste, heat over medium and prepare for guests to have their taste buds tantalized.
Set out platters of shrimp fritters, grilled smoked sausages cut into bite size pieces, small chicken nuggets and potato rosettes. You might also arrange a platter of vegetable egg rolls and pork egg rolls to further tie in your Asian theme.
Use a table runner with characters from an Asian language of your choice, and use bamboo dipping sticks whenever possible to simulate eating with chopsticks.
Either one of these fondue fountains will ensure your Asian inspired dinner party is a delicious success!